Meet Dr. Andy Smith
I was very nervous about the chiropractic treatment, but you know, it didn't hurt."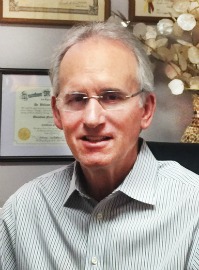 I found myself in Duke hospital with my neck dislocated and broken from a football injury that afternoon. I was quarterback for the Duke University freshman team, with hopes of one day playing football professionally. My young dream ended that day and my life took a different direction.
My Decision to be a Chiropractor
During those several years of recovery my father encouraged me to see a friend of his who was a Chiropractor. I was still having a great deal of problems from my injury, so I went. I was very nervous about that first chiropractic treatment, but you know, it didn't hurt.
In fact I actually felt good and everything got tremendously better. It worked so well, I decided to go to chiropractic school myself!
Chiropractic Education
After completing his education at Duke University, Dr. Smith was accepted to Palmer College of Chiropractic in Davenport, Iowa. During his four years at Palmer, courses included: biochemistry, a major emphasis on anatomy and human physiology, x-ray, diagnosis, chiropractic adjusting techniques, and patient care in the Palmer College Public Clinic.
After graduating in 1977, Dr. Smith returned to Concord to establish his Cabarrus County chiropractic practice. "We love the difficult and chronic cases", smiles Dr. Smith. "I still remember the concerns I had when I went to the chiropractor after my injury therefore we make it a point to explain everything in advance, answer questions and attempt to reassure those who may still have some apprehensions. Patients appreciate that."
Dr. Smith is also certified in Clinical Acupuncture.
Dr. Andy Smith & His Family
Dr. Smith is married to Nancy and they have 3 daughters, Hannah, Alisa, and Katrina, son in law's Wayne, David and Daniel, grandchildren Caleb, Wyatt, Kaylee, Kinley, and Malia. Everyone in the family including the grandchildren receives regular chiropractic care.
"I enjoy watching the careers of my children continue to grow. My main hobby, along with my wife Nancy, is to continue the process of building wonderful memories in the minds and hearts of our grandchildren. I also enjoy competing in trap and skeet shooting, spending time with my close friends, and reading a good book from time to time."
"I consider myself an excellent listener and hope I get the opportunity to meet you in person and discuss your specific health challenge. Give our office a call or email me with the link below and let's arrange a time to explore your options."
---
Dr. Andy Smith | (704) 788-3126