Laser Therapy
Perhaps you want to get out of pain or blast fat from those stubborn areas. Maybe you want to avoid risky surgery or don't want to take prescription painkillers that have serious side effects.
At Smith Chiropractic Clinic, we're pleased to offer patients drug-free and non-invasive laser therapy with Erchonia® lasers. We use three different ones to help patients.
Erchonia FX 635
If you've been putting up with persistent low back pain and are looking for a modality, in addition to chiropractic care, to address your discomfort, the Erchonia FX 635 Laser could help you! With this state-of-the-art therapy, you can get pain relief without any harmful side effects.
---
Neck and Shoulder Pain
Low Back Pain
Foot Pain
Why we choose to offer this laser
The FX 635 laser is the world's first and only laser designed to relieve chronic low back pain. Best of all, the FX 635 is FDA market cleared and proven to work without the need for invasive surgery or potentially addictive opioids.
Erchonia Zerona-Z6
Maybe you've tried to lose stubborn fat by reducing calories and ramping up your workouts but didn't get any results. We understand how frustrating it can be to get trim. That's why we're particularly excited to offer the Zerona-Z6 to patients.
This laser is specially designed for use during non-invasive body contouring. The Zerona-Z6 Laser is a new body-sculpting procedure designed to target fat and contour the body without invasive surgery.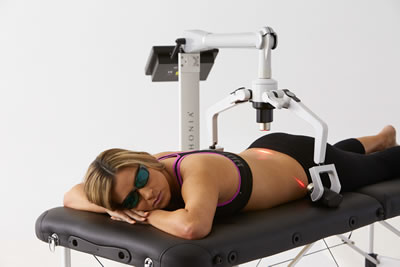 Unlike other procedures, such as surgeries, Zerona-Z6 allows patients to continue their daily activities without any downtime required. You won't need to take time off of work to recover.
How it works
Zerona-Z6 works by using the Erchonia's patented low-level laser technology to target fat in areas of the body, including arms, waist, hips and love handles. Our bodies get rid of the fat from the area being targeted and transport it through the lymphatic system. The result is a slimming effect.
You can experience results in two weeks without any side effects. Perhaps best of all no incisions or needles are required!
Pricing
A Zerona-Z6 laser session lasts for 50 minutes and costs $110.
Payment Plans
We offer convenient payment plans, ask us for more information at your next appointment!
EVRL Violet and Red Laser
The EVRL unit has two different laser lights built-in. The red light is the same laser light that's in the FX 635; the violet light is antimicrobial. This handheld unit can treat the same conditions as the FX 635 but the EVRL is not as powerful as the big laser. The EVRL is used primarily for acute conditions where the FX 635 is employed for more chronic and complex conditions.
How the laser works
Harnessing the power of red and violet cold low-level lasers, the EVRL employs low-level laser therapy (LLLT) to safely and effectively address a broader array of conditions than many other cold lasers on the market today. These EVRL is commonly used for neck and shoulder pain as well as acne.

Book an Appointment
Contact our Cabarrus County practice today to schedule a convenient appointment for laser therapy!
---
Laser Therapy Cabarrus County, Concord NC | (704) 788-3126